Upcoming Events
---
Sorry, No upcoming events found.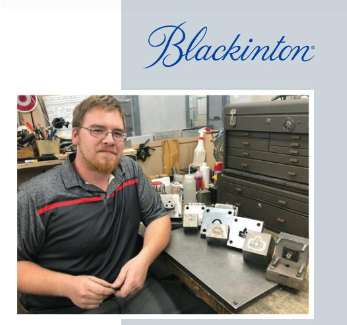 Blackinton Featured In PBN Stuff Magazine
Read Ryan's interview to get a better understanding of what it takes to be a die and toolmaker.
​Blackinton was recently featured in PBN Stuff magazine, which features manufacturers in the Rhode Island area.  Ryan Langlois one of our up and coming die and tool makers was interviewed for the article.  Click Here​ to read the article.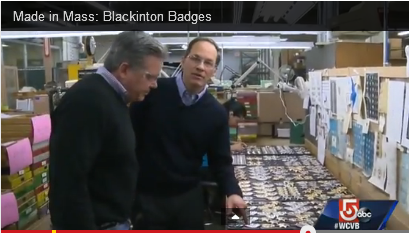 Blackinton Featured on WCVB Channel 5 Made In Massachusetts
Blackinton has a long history and is a proud industry leader who calls Massachusetts home!
​Click Here to watch the Made In Massachusetts segment featuring Blackinton that was recently filmed and aired on WCVB Channel 5 Boston.
The Made in Massachusetts show features Massachusetts based manufacturers who produce unique, quality products right here in the Bay State.  Thank you very much to Doug Meehan and the Channel 5 team for recognizing Blackinton's long proud history and for featuring Blackinton on this great local show.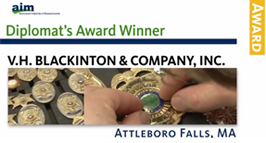 Blackinton wins Global Trade Award
AIM's (Associated Industries of Massachusetts) international business council has awarded Blackinton the Diplomat's award for excellence in International trade.
The award recognizes excellence among Massachusetts businesses engaged in international trade.
Blackinton is the largest worldwide manufacturer of police, fire, security, military, and government metal badges and uniform insignia.  Blackinton was established in 1852, and since this time the company's manufacturing facility has been operating in Attleboro Falls, Massachusetts, employing its residents.
The catalyst for Blackinton's international business was the launch of the company's high security badges that incorporate RFID technology and color-shifting enamels.  The security badges were developed to meet the needs of customers most concerned with officer authentication and badge anti-counterfeiting.  These products are most valued in countries where police corruption and cartel activities are most active.  In Mexico, and many Central and South American countries, the Blackinton security badges meet a very serious need.  The company's high security badges are its primary export.
Blackinton has utilized many U.S. Department of Commerce programs to help grow its international business.  Since 2008, Blackinton has experienced a dramatic growth in its export sales, growing between 50-100% each year.  Peter Roque, President of Blackinton®,
stated "We are proud of our U.S. heritage and Massachusetts history, and we are honored to receive this prestigious award. Being recognized for our efforts in international trade is a testament to the company's commitment to developing innovative products that meet the ever changing needs of our customers. " 
Click Here to visit AIM's site, and to obtain additional information about the award and the other award winners.